Sanosan Sandals and Flip Flops
SANO: Healthy in Latin.
The SANOSAN Flip-flops and Sandals were created with one premise in mind: "Our total body weight rests on our feet" - Top foot specialists have devised the most comfortable and responsive solution in the form of the ideal insole for your feet. Sanosan maintains a continuous commitment to our products, using the most responsible materials, so they're good for both your feet and the environment.

Footbed Edge: Deliberately elivated to protect toes
Toe Bar: Steers the toes promoting the natural rolling movement of the foot
Cross Arch Support: Helps shift the pressure from the middle to the front of the foot
Suede Leather Lining: Creates a healthy climate around the foot
Inner and Outer Longitudinal Arch Support: Gives the feet stablility for the heel
Deep Heel Cup: Gives the foot a firm hold and maintains the heel profile
Cork-Rubber Footbed: Extremely flexible producing a unique high level of wearing comfort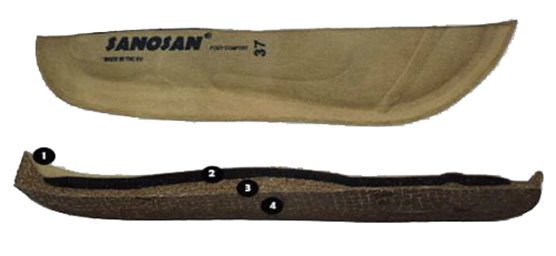 Velours - leather insole
Resilient foam layer
Cork-rubber core
Lower jute layer